As with all months this year so far, May 2020 was a weird one, but in Italy things don't seem to be going downhill anymore – at least, not in the way they were for a good part of last month. About the American side of this liminal space: if you're here, you're likely on the internet enough to already be informed and I hope you're already doing what's in your power to help, but if not, there's a comprehensive list of things you can do on this Black Lives Matter carrd.
---
Life Update
I'm finally not stuck at home anymore! And because our botany course requires us to build an herbarium (yes, the ones with the dried plants), I ended up spending a lot of time outside to photograph/identify/sometimes harvest said plants.
My favorite place I found this month plant-wise was Monte di Traso, on which I took these, probably my favorite pictures of the month:
Yes, if you're wondering, picture #1 is how European orchids look like; there's the misconception around here that orchids only grow in warmer, more humid countries, but that's not true at all – ours are just smaller and look different from what we usually think orchids are like (and not so different after all; if you look at the individual flowers in the inflorescence, they look like the miniature version of the ones here you'd find in a flower shop). Picture #2 is a plant in the Lamiaceae family.
Also, of all things, building an herbary is surprisingly awkward, and you may experience:
people who pass by asking you if you've lost something because you're staring intensely at the weeds to determine whether that's an Oxalis stricta but to the general public that's just weird
took a sample of mysterious plant #1 to identify it at home, turns out it's both:

poisonous, being a lesser-known type of nightshade (not Atropa belladonna)
full of aphids and tiny tiny worms, which is just wonderful for the peace of mind of your family
There are people who think studying plants is boring. Oh, I wish.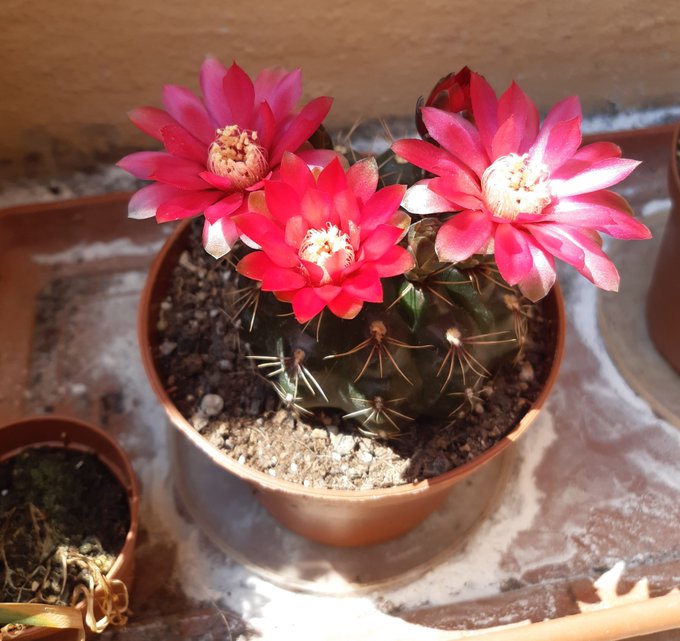 In better plant news, for the first time in my life one of my cacti bloomed! It's likely a Gymnocalycium (unsure of the species, cacti aren't part of the botany course here) and I love it a lot.
---
May as a Reading Month
In May, I read 8 books:
5 new novels, one of them written in verse
2 novellas
1 graphic novel
You can also see the short stories I read and reviewed here.
This month was unremarkable both in quality and quantity. While I liked pretty much everything I read, the five star curse has returned – I didn't rate any of those eight books more than four stars (I gave so many ratings in the four star range). How I even managed to read five 5-star novels in April is beyond me.
May was also Wyrd and Wonder month, but as it's typical for me, I ended up reading very little fantasy. I did end up writing a post for the event, though, On Rules and Magic Systems.
What I Read
I started this month listening to the audiobook of The Never-Tilting World by Rin Chupeco (review). Like all of Rin Chupeco's books so far, I really liked the idea of it, but had more complicated feelings on the execution – there was a lot of missed potential, and I felt as if this book had been mostly put together as a list of tropes that are thought to sell well, more than something that made sense. I can tell you that the Frozen meets Mad Max comp is accurate, but it… doesn't come together very well. It was still a very fun time and I really liked the F/F goddess-falling-into-evil/bodyguard romance; I gave it 3.5 stars.
After that, I buddy-read Vagabonds by Hao Jingfang with Silvia (my review; her review), and it was an interesting if somewhat draining experience – there are very few books that actually need to be 600 pages and this is not one of them! It's also Very Serious Sci-fi with Political, Economical and Social Commentary™, so it's not a light read. I think it's worth reading, because there are certain things that American SFF inevitably doesn't do, and reading outside said viewpoint is a good idea (this is translated from Chinese by SFF author Ken Liu). We both gave this book 4 stars. [This was also an audiobook.]
This month really was the audiobook month, because after reading an ebook of Exit Strategy (of which I wasn't a fan; 2 stars) I jumped right into Network Effect by Martha Wells, which I finished in less than two days due to my conjunctivitis (can't procrastinate on reading if your eyes hurt too much to do anything but listen to an audiobook!) and it ended up surprising me a lot – I liked it far more than I expected after that novella and gave it 3.75 stars. The friendship (yes, Murderbot, friendship) between ART and Murderbot really is what makes these books work for me; the ones in which ART is absent just aren't as interesting. [review]
I didn't read any more audiobooks after that (three is enough, thank you, and my eyes finally started acting normally again) and Sapphicathon started! So, here's what I ended up reading for the readathon, which you can compare to my TBR:
I ended up not getting to A Line in the Dark, which makes me sad, but it suddenly got summer-like here and that's such a winter book, so I'm not annoyed with myself (yes, certain books are better if read in the right season, at least for me). I liked Tillie Walden's memoir Spinning more than I expected (liked but didn't love On a Sunbeam by this author) and I definitely want to read more memoirs in the future, especially in graphic format. I rated it 4 stars.
Clap When You Land by Elizabeth Acevedo was at the same time good and disappointing. I can't even really explain what about it didn't work for me when Acevedo's previous novels were both favorites, apart from "I don't really get along with dual PoV poetry", which seems universal across all the novels in verse I've tried. I gave it 3.5 stars, really appreciated the established F/F couple, and would still recommend it because I don't think there was anything objectively wrong with it.
As far as Palimpsest by Catherynne M. Valente goes… well, this is at the same time my favorite book of the year in my heart and one of the most infuriating things I've ever read on another level – because of the incredibly ignorant and stereotypical portrayal of the Italian PoV character (and of all the non-American PoV characters, probably, but I can't say it for sure myself, not being part of those cultures). I'll get more into it in my review; for now I'll just say that I'm really conflicted about this and wish I weren't, because this was just my kind of weird, very queer and very polyamorous novel. As a rating, I landed on 3.5 stars, but nothing quite feels right for this book.
The last thing I finished this month was Of Dragons, Feasts and Murders by Aliette de Bodard, a short standalone novella set in the Dominion of the Fallen universe following Thuan and Asmodeus. I'm glad to have seen even more of the Dragon Kingdom in the Seine and this was so all-around gay it was delightful; I gave it 3.5 stars. At the end of May I also started An Absolutely Remarkable Thing by Hank Green and The Downstairs Girl by Stacey Lee, but DNFed both for no reason other that "just not for me" (so I didn't write a review for either). I'm trying to get better at leaving books I know are not going to work for me early enough that I have nothing to say about them.
---
This was the first post I completely wrote with the block editor! It wasn't that bad after all. How was May for you? Have you read or want to read any of these?